Held at the NoVo Foundation in New York City and featuring a thought-provoking presentation on Women & Money: Re-imagining Economics by Jennifer Buffett, NoVo Foundation and Kathy LeMay, Raising Change, the second event in our FemSalon Series left us all hungry for more dialogue on the topic!
Like our first FemSalon on The State of Feminism, hosted by Gloria Steinem, the room was filled with incredible women – and a few amazing men, including members of the Feminist.com board and advisory board, along with many longtime friends, supporters and colleagues.
Find out who joined for the Women & Money Salon and find out more about the incredible work they do.
Special thanks to Pat Mitchell for her inspiring words on behalf of Feminist.com, and to NoVo Foundation and Women on Fire for sponsoring the Women & Money Salon!

---
About Feminist.com
Learn more about Feminist.com and our programs!

---
Coming in 2013!


Women & Peace
Featuring a conversation with filmmaker Abigail Disney and other women peacemakers.
NYC
March 7, 2013




NYC
May 16th, 2013



Full 2014 FemSalon schedule to be announced soon!

---
For more information, email us or for the latest Feminist.com news, join here.
---
Support the FemSalon Series


We do what we do because of you – and we couldn't do it without you!
Make your tax-deductible contribution today.

---


Scenes from the Event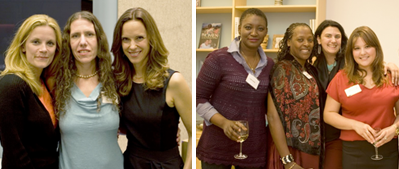 See photos from the night.
More photos can be found in the album on Feminist.com's Facebook page.
Video Highlights from the Salon

With additional comments by speakers Jennifer Buffett, NoVo Foundation and Kathy LeMay, Raising Change
Videographer: Rhiannon Marino / Content Producer/Editor: Kathleen Sweeney
Hungry for More?
Feminist.com Exclusive:
More on Re-imagining Economics
from Jennifer Buffett

Women & Money Resource List
Curated by Manisha Thakor
Founder/CEO, MoneyZen Wealth Management

Acknowledgments
Once again, thank you to our generous sponsors and amazing partners!
Fairwinds Trading
Jess' Bee Natural
Susan's Soaps & More
Sweet Riot
Kathleen Sweeney Videography
Avionne Adams Photography
Abbe Aronson of Abbe Does It!
Ophira Edut at Mediarology.com

And as always - thanks to all who joined us at the event! It was a wonderful evening and we were so happy to share it with our friends, colleagues and supporters.