---
In Appreciation, to the Magnificently Overqualified Women of America
by Alexandra Estes

Several weeks ago, the Senate failed to pass the Fair Pay Act, a piece of legislation that would have the power to decrease the wage gap in the U.S. between men and women. Presumptive Republican Presidential Nominee Senator John McCain failed to show up for the vote. After failing to participate in the vote, he quipped that rather than earning a pay rate equal to a man's, for doing the same job, a little more "education and training" will help cure the woes of working women. His insulting words suggest that women are less educated and inherently less capable of contributing to the workforce. The creative response to Senator McCain's folly was an effort dreamed up by the brilliant women at the online grassroots organization MomsRising.org. They began a campaign encouraging women to send their actual resumes to Senator McCain. Women from every imaginable field—many with one or more degrees—boldly showcased their resumes, in an effort to show the extent of their hard-earned education and training.
Evidently, John McCain isn't aware that women earn the majority of Bachelors and Masters degrees in the United States. Without a doubt, he is in for quite a surprise when he glances over the nearly 10,000 resumes delivered to his office. Within the pages representing some of the most talented and wonderful women in America, he will see names of prestigious universities, decades of experience and mobility in the trades and professions, and high-level positions within major U.S. companies.
However, what John McCain won't see in the thousands of stunning resumes is the behind-the-scenes realities of working women in the United States. He won't see the difficulties, pressures, and competing priorities that the average American woman faces each day. Another thing he won't see on her resume is her salary—and he most definitely won't see how much less she makes in comparison to other men in her company who do the exact same job.
John McCain may see the resumes, but he won't know the personal stories of the women behind them. He won't see the inspiring ways in which women work to overcome significant obstacles in order to build lives and careers. Given his voting record, he won't easily understand the struggles of millions of working mothers in America who juggle the responsibilities of the two competing worlds of work and home. And through the resumes, he won't know what a difference 23 more cents per hour could make in the lives of American women, if they were paid at rates equal to male counterparts.
In my role as an intern at MomsRising.org, I was given the opportunity to review a significant portion of the resume submissions. After searching through a file of nearly two thousand resumes, one thing is clear—no talented woman in America is alone in her magnificent over-qualification. With such an incredibly qualified, trained and educated workforce of outstanding women, what is stopping us from standing together to break down the barriers that hold us back from the recognition and pay that we deserve… that we have surely earned? We are trained, we are educated, and we are capable of building a more equitable, woman- and family-friendly America.
Alexandra Estes is currently a summer program intern at MomsRising.org, working on several state campaigns in support of paid sick days. In 2008, Estes served in an internship for the HIV/AIDS support organization HOPE Worldwide, in Cape Town, South Africa. In 2007, Estes worked to promote universal healthcare in the state of Connecticut as an intern for the HealthCare4Every1 campaign of the Connecticut Caring Families Coalition. Since 2005, Estes has worked as a campus organizer for Planned Parenthood of Connecticut. She is currently a senior at the University of Connecticut, majoring in Sociology, and lives in Seattle, Washington.
---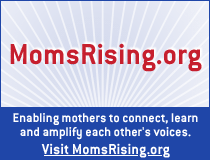 MomsRising.org is an organization working to build a truly family-friendly nation. Started in May, 2006, MomsRising uses the power of online organizing in coordination with grassroots activities and media outreach to educate the public about problems facing American families and to propose common sense solutions. MomsRising.org provides citizens with an opportunity to amplify their voices and to take their concerns to leaders who are in positions to implement real changes.
Find us and join us at MomsRising.org.