---
I Love Seeing Babies at Work!
by Joan Blades

MomsRising is working to envision and embrace culture change that enables parents to excel at home and at work. Win-win solutions are more accessible than most of us realize. This weekend the New York Times highlighted such an opportunity that far too few businesses are taking advantage of: babies at work!
Yes there are jobs for which this is simply not possible, but there are also millions of jobs where keeping your baby with you is the most natural thing in the world. When you consider that the birth of a child is a leading cause of a "poverty spell" in America, this solution is one simple answer and it turns out it is good for business! (Paid family leave has been shown to increase employee retention as well. In CA a new parent can take six weeks of paid family leave, plus mothers who give birth get 6 weeks paid medical leave.)
The Parenting in the Workplace Institute has a database of more than 120 companies that welcome babies at work. They even have a book available "How to Start a Babies-at-Work Program"--complete with guidelines and paperwork for employers to use so that they can ensure that having babies in their workplace will be a good experience for everyone. Bottom line: Work continuity, worker loyalty, and goodwill created by supporting a babies-at-work program pays off.
Imagine, then, being able to bring babies to work until they are six months old or crawling. Now that is civilized and it provides some economic security for new families! I still have a hard time accepting that some mothers in this country go back to work days after giving birth because they can't afford to both feed their family and care for their babies. (Have I mentioned that the U.S. is one of only four countries out of over 170 that have no paid family leave for new mothers? California, Washington, and New Jersey are the only states that provide paid family leave).
Babies-at-work programs are not just for high-end jobs. As I read the stories about companies that took a chance on working differently, I am heartened that these companies are having peaceful revolutions that they are now sharing with others. This kind of thing can change our world. It's not for everyone or everywhere, but it works for far more than you might think.

Joan Blades founded MomsRising.org with Kristin Rowe-Finkbeiner to tap the power of online grassroots organizing for mothers and families in the U.S.A. She is also the co-author of The Motherhood Manifesto, co-founder of Moveon.org, a member of the Reuniting America advisory board, a software entrepreneur, nature lover, former attorney/mediator, author of Mediate Your Divorce, artist, Sunday soccer player and mother.
---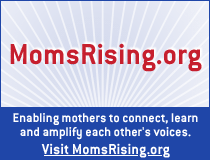 MomsRising.org is an organization working to build a truly family-friendly nation. Started in May, 2006, MomsRising uses the power of online organizing in coordination with grassroots activities and media outreach to educate the public about problems facing American families and to propose common sense solutions. MomsRising.org provides citizens with an opportunity to amplify their voices and to take their concerns to leaders who are in positions to implement real changes.
Find us and join us at MomsRising.org.