---
Strong Women Lead to Strong Nations
By Zainab Salbi

There is a duality to war—a disconnect in the way it is portrayed, talked about and understood that creates a distinction between what we call the front-line discussion and the back-line discussion. For every front-line discussion dealing only with the detached calculations of warfare, there is a back-line discussion that embraces the often overlooked questions of how those caught in war's midst will survive, and how they will rebuild their society in war's wake.
While men continue to steer the front-line discussion, it is the women who lead the discussion of war on the back lines, ensuring that there is food to eat and water to drink, and preserving the seeds of hope so that they may take root in a peaceful future. Once the fighting ends, it is the women who pick up the pieces of their families and mend the social fabric of their communities. Yet women's crucial role in sustaining society amid armed conflict is rarely acknowledged. As an organization dedicated to serving women survivors of war, Women for Women International has witnessed this back-line discussion, and recognizes it as a key to sustainable peace.
Women for Women International believes that women's well-being is the bellwether of society. Since 1993 Women for Women International has served hundreds of thousands of women through our one year intensive sponsorship program which provides financial and emotional support, job skills training, rights education, access to capital, microcredit loans and assistance for small business development. We have seen that when women thrive in areas like education and employment, society benefits as a whole. And when women suffer, it is only a matter of time before all of society is at risk. Thus it is not difficult to realize that the incorporation of women's views into traditionally male-dominated political processes is vital to achieving sustainable peace, democracy and prosperity.
The segregation of front- and back-line discussions continues to marginalize women's role in creating a lasting peace to the detriment of all survivors of war, women and children as well as men. But peace is not just the signing of a peace agreement. That is only the beginning. The promise of substantive economic, social and political change can only come about from a stable, inclusive society working together to move beyond the divisions of war.
Peace—real peace—means that there are schools for children to attend, and that it is safe for them to go. Peace means having three meals a day, a job, and home to come back to. These are the prosaic triumphs of sustainable peace in stable societies, and they would not be possible if women did not bridge the gap between the front-lines of conflict and the back-lines of stubborn hope.
Sustainable peace, democracy and economic development depend on women's economic,social and political participation. The front-line and back-line discussions must be held at the same negotiating table for real peace to materialize. It is time for women to be involved, not just in symbolic ways, but through full participation at every level, from the family dinner table, to community councils, to the United Nations. Women's vast potential for leveraging hope into sustainable peace must not remain untapped. Strong women lead to strong nations.
***
Zainab Salbi is the founder and CEO of Women for Women International and author of Between Two Worlds: Escape from Tyranny: Growing Up in the Shadow of Saddam (Gotham, 2005) and The Other Side of War: Women's Stories of Survival & Hope (National Geographic, 2006). Zainab is interviewed regularly in national and international media outlets included seven appearances on The Oprah Winfrey Show, Ms. Magazine, BBC and NPR. A graduate of George Mason University in sociology and women's studies, she earned a master's degree in development studies from the London School of Economics and Political Science in 2001.
---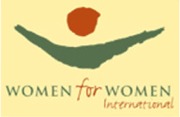 Women for Women International is an international non-profit organization dedicating to providing women survivors of war, civil strife and other conflicts with the tools and resources to move from crisis and poverty to stability and self-sufficiency, thereby promoting viable civil societies. To learn more about the organization and how to sponsor a woman in a war torn country visit: www.womenforwomen.org