| | | |
| --- | --- | --- |
| | | See another section in Articles & Speeches |
Disappearing Rape Kits and the Betrayal of American Women
by Brooke Elise Axtell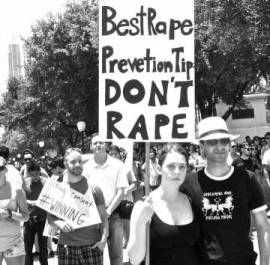 Jay Grayce moved to San Francisco to start a new life. She found a job as an ESL teacher and was looking for additional work. When she arrived at a high end family restaurant for an interview, the manager was friendly and introduced her to his wife and the other employees. After telling Jay that she was ideal for the job, he invited her to join him in his office to fill out a few forms and discuss her schedule.
The manager walked quickly ahead of her and she lost sight of him. When she stepped into the office, he attacked Jay from behind and put his hand over her mouth, so no one could hear her scream. He threw her down, brutally raping her on the cold, damp floor. "I felt like I left my body and was watching it happen," she says, "I remember thinking how could this happen? His wife is out there eating and drinking."
Bloody and bruised, Jay went to the hospital to be examined, so the DNA evidence could be collected. She waited 6 hours for a nurse to attend to her. During this time, police questioned her relentlessly. "They were very dismissive, insensitive and showed no form of empathy whatsoever," she says. The police officers asked her the same questions over and over again, but did not act on any of the information she gave them.
Jay endured the excruciating process of submitting evidence for a rape kit, but months passed and the police never returned her calls. A year and half later, her counselor offered to reach out to an acquaintance in the precinct to inquire about the status of her case. The officer said that her case was closed and her file showed that she never called, followed up or showed any interest in pursuing the case.
"The DNA evidence is not here," he said. "We don't know where it is. Let me go down to the basement. It shouldn't be there because that area is for old cases." After carefully searching the basement, he called Jay and explained, "I found your evidence. It was purposefully hidden."
This buried evidence was eventually used to convict the restaurant manager who received a 5 year sentence for sexual assault. He was a serial rapist who attacked women in California, New York and Florida. Without the help of an advocate who had a personal contact at the police station, the case would have remained closed and the lives of other women would have been ripped apart.
Unfortunately, hundreds of thousands of rape kits in the U.S. have never been processed. The DNA evidence is stored and buried. This is nothing less than the mass betrayal of American women. Jay says, "Sadly enough most of these cases never go to trial. There is a lot in the system that is lacking. There should be sensitivity training for DA's and police officers, so they show some remnant of empathy. You can be professional without being detached completely. We internalize it as blame and shame as survivors of trauma."
Jay now hosts a radio show called "The Rape Declaration Forum" on Pacifica Radio, New York (WBAI) to raise awareness on sexual assault and encourage other survivors in their recovery. She wants to keep other women from enduring the same violation through the criminal justice system. "As far as rape kits, my evidence was buried. It took over a year and half for someone to find it. This is not ethical. What can we do as a community to make a change? What we're doing so far is not working."
One way we can create change is to pass the Sexual Assault Forensic Evidence Registry Act (SAFER Act) which would ensure that every rape kit in the U.S. is documented and processed. It would also create a national registry where victims of sexual assault can track the status of their case. Representative Carolyn Maloney (D-NY) introduced the SAFER Act in April and has been a passionate advocate for survivor rights:
"We must help law enforcement eliminate the rape kit backlog once and for all...My Debbie Smith Act improved funding for all DNA processing, but this bill would allocate a portion of that funding to help law enforcement get a handle on their existing rape kit backlog and to provide the resources to process and track it. The tools in this bill would empower victims-- and get rapists off the street that much faster," she explains.
Processing DNA evidence and convicting perpetrators is a key sexual assault prevention strategy. We cannot continue to ignore the backlog of rape kits and allow violent predators to walk free. "We shouldn't wait for our loved ones to be in that position, " says Jay. "We need to act now."
---
Brooke Elise Axtell is a an award-winning singer, songwriter and poet. Her latest CD, Creatrix, was produced by Charlie Sexton (guitarist for Bob Dylan) and Mitch Watkins (guitarist for Leonard Cohen). She is also the founder of SHE: Survivor Healing and Empowerment, a healing community for survivors of rape, abuse and sex-trafficking. Her work as an artist and activist has been featured in many media outlets, including The San Francisco Chronicle, CBS Radio and Fox News. Visit her website at www.brookeaxtell.com.
Also by Brooke Elise Axtell:
Feminism in Kenya: A New Narrative