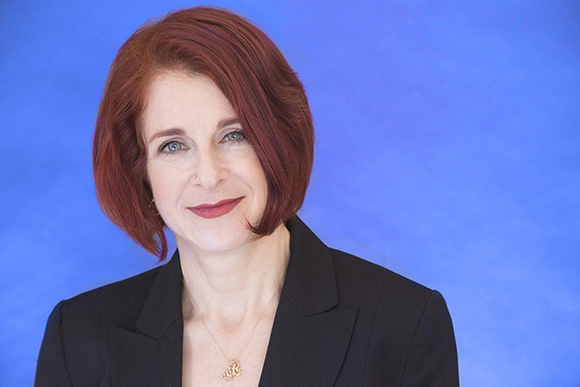 Lynn Harris is the founder and CEO of GOLD Comedy, the only comedy learning and content platform for teen girls. GOLD Comedy turns comedy norms on their head by putting girls first; Their digital training enhances girls' comedy skills and enlarges the comedy talent pool.
Lynn recently told Feminist.com more about her work and why comedy is such an important tool for the feminist movement.
Why did you decide to start GOLD Comedy?
When I was about 16, in like 1985, I went to a Jewish youth group ski weekend in New Hampshire. On Saturday night, a bunch of dudes, one of whom may or may not have in fact been Adam Sandler, somehow got some grapefruits and borrowed nightgowns and did some sort of sloppy, impromptu drag skit that brought down the house.
My immediate thought: OK, now what can the girls do? I was a comedy ringleader—it was my solemn duty to respond in kind. But I also somehow realized this: girls would have to work WAY harder to get that reaction. Allie, Jessica, and I—HILARIOUS though we were—could not have just put grapefruits in our pants, wiggled our butts, and crushed. Audiences aren't that easy on girls. I could feel it. So we just laughed.
It's still true. In comedy, as in most other male-dominated realms, which are most realms, women (and most other non-straight white dudes) have to work harder to succeed.
That night stuck with me, on into my many-slashes career as a journalist/standup comic/humor writer/comedy teacher and producer/pop culture brand-builder/culture change strategist/professional feminist/resenter of Sandler. I always thought: what if women and girls had the freedom and power to command a stage and be loud or weird and crush like those guys (or bomb and have it not matter!)? I want every non-male who wants that power to have that power.
So...GOLD! We're still in the very early stages, but we've got a one-of-a-kind online class, daily writing prompts on Instagram, and tons of articles on our website that will get you going on finding your funny, from wherever you are.
What do you think comedy can do for young women?
Not news: Girls are under pressure. Pressure to conform, behave, excel—all that stuff.
What if we could show them that it's more than "okay" to be different or "weird"? That they don't need to change anything about themselves? That they can succeed by doubling down on who they already are?
Oh wait! We can. Comedy can. That's what comedy does.
Doing comedy—especially starting with standup skills—invites teen girls to discover and double down on their authentic voices, their unique lenses, their total weirdness. You don't have to be less shy, more confident, look, or act different. And definitely don't be "perfect," because—and here I always quote Lynn Johnson, founder of Spotlight: Girls—"perfect isn't funny." What makes you different is what makes you funny, and what makes you funny is what makes you strong. When you make people laugh, you make people listen. Especially for girls, comedy is power.
But my answer—and my mission—are also about what girls can do for comedy. Yes, women in comedy are more visible and indispensable than ever. Women can be Ghostbusters now! But wow, it's still bad. Men do "comedy;" women do "women's comedy." Women are "female comics"—or, God help us, "comediennes"—men, "comics." This matters because comedy is work, and women are people. It also matters because comedy is a powerful and necessary cultural force. We communicate in memes. We look to late night to process the news. What we find funny tells us where we belong. When women and girls are sidelined there, they're sidelined everywhere.
More women—more everyone "other"—in comedy is good for comedy, and good for the world. And more women in comedy starts with more girls in comedy. I want to help grow the pool, widen the pipeline. I want to help turn up the spotlight and volume on SO MANY FUNNY GIRLS that we don't just change the way they see themselves; we change the way the world sees them. When you change the face of comedy, you change the face of power. The more girls do comedy, the more girls define comedy. The more girls do comedy, the more the world takes girls seriously.
What are your biggest takeaways from your work so far — about comedy, young women, and/or the intersection of the two?
I have been very interested to see how often—even when I also say words like "startup" and "entrepreneur"—when I say the word "girls," people assume that GOLD is a non-profit. No shade to non-profits! Some of my best jobs were non-profits! But there is SUCH a baked-in cultural assumption, more than I'd realized, that when you target girls—and you are a woman—that yours is a charitable cause. More than ever, I want to challenge the idea that men do "well," and women do "good." Women and girls can do both! Multitasking!
You've worked as a journalist and for the human rights group Breakthrough. When did you first get involved in comedy and how did you come to make that the focus of your career?
Honestly, comedy has always been at the heart of my career, or the caffeine that kept it pumping fast, or...something. I did do standup, and taught humor writing, throughout the 90s. But for me, humor has always been the way into things—and the way to get them out there. As a journalist, I wrote funny about serious issues (abortion LOL!) as a way to reframe and add insight. I co-created a hilarious feminist/pro-LGBTQI comic book superhero character (Breakup Girl) with a serious mission: to change the way people talk about relationships. Breakthrough's special sauce is to use pop culture to make human rights issues real and relevant—so, total #happyplace, I got to write animations and produce comedy series like "Dudes Against Violence Against Women: Because DUH.
So, I don't know that laughter is the best "medicine" (antibiotics also important) or that humor necessarily "brings people together" (wow, can it also divide). (I do not enjoy Curb Your Enthusiasm! Don't @ me.) But I love it because it can crack open doors and let in a bit of light. It helps us find our tribes and our truths, even when it's just grapefruit boobs.
What does feminism in this day and age (and political climate) mean to you?
Um, everything? Everything. More than ever. When I was a baby feminist, volunteering for and marching with various organizations ("My arms are tired from holding this fucking sign since the '80s," etc.), I rarely thought thoughtfully about the intersections of race or class or the fact that I could, physically, march. Now my feminism—always imperfect, always evolving—is a daily combo of protesting oppression and checking my privilege.
Meanwhile, my kids are funny, thank God, and in terms of feminism? Light years ahead of where I was at their age(s). Recently, when I complained about the design of a mailbox, my then 12-year-old daughter said, "Mom, don't slot-shame." Speaking of multitasking, I'm scared for her future, AND I think we're gonna be okay.