| | | |
| --- | --- | --- |
| | | See another section in Articles & Speeches |
Interviewing a new kind of leader
and, now, a Nobel Prize winner, Ellen Johnson Sirleaf
by Pat Mitchell, President & CEO, The Paley Center for Media
This morning, Ellen Johnson Sirleaf, president of Liberia, was named one of three winners of the 2011 Nobel Peace Prize, in honor of her work promoting nonviolent change. I had the absolute pleasure of interviewing President Sirleaf for TEDWomen last year. Her presence left an indelible mark on me as it has on so many both within and outside of Liberia's borders.
Not only was President Sirleaf the first woman to be elected president on the continent of Africa, but she has come to represent the hope that Africa will model a whole new kind of leadership. In 2005, she left the U.S., where she was working in global development at the time, and took over Liberia, a conflict ridden country that had been marred by so many years of corruption and civil war. She was elected primarily by "the market women," as they're known in Liberia—largely illiterate women who work in the city's bustling market. Seeing a truly new kind of leadership in Ellen Johnson Sirleaf, they teamed up and literally went door-to-door, telling everyone to "Vote for Mama Ellen!"
President Sirleaf delivered on her promise to make life better for all Liberians, starting with the market women who elected her--putting toilets in the market, building schools and strengthening infrastructure around it. She has made woman and children a priority, modeled a new approach to corruption, and worked towards making Liberia economically viable—which is still proving challenging. But she won't give up. President Sirleaf is a new kind of leader because she has and will continue to deliver on her promises, especially critical in a country where so many feel as if their political leadership has disappointed them in the long run.
Perhaps because of her huge leadership influence, I somehow expected President Sirleaf to be six feet tall, but when I met her, I found a rather small, quiet, and reserved woman sitting just inches from me. I quickly realized that she is the type of leader who studies everything and everyone around her, not the kind of person who enters a room and dominates the conversation, but a listener and an observer. She has a quiet kind of power.
Which is not to say she isn't tough as can be. In fact, she has earned the nickname "Iron Lady of Liberia" because of her strong stances on policy and ethical practice. When I asked her about this nickname, she kind of laughed quietly, and then explained that she didn't think it was such a bad impression to leave on people in a time where toughness is certainly required. This, perhaps, is the most revolutionary thing about her leadership; it is animated by both a maternal kindness and an unapologetic strength.
The next month in Liberia will be a critical time, as President Sirleaf is up for re-election. In our upcoming TEDxWomen program in December, we will no doubt include either a satellite interview update with her or an interaction with some other fantastic leader from Liberia—peace activist Leymah Gbowee also won a Nobel Peace Prize for her work in Liberia! The story of President Sirleaf's leadership and its reverberations, I believe, is just beginning.
To watch the TedWomen interview of Ellen Johnson Sirleaf with Pat Mitchell, visit the Paley Center Screening Room.

This post originally appeared at Pat Connects at The Paley Center for Media site.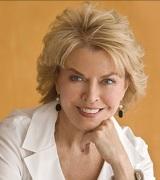 About Pat Mitchell

Since assuming her current role as president and chief executive officer of The Paley Center for Media (formerly The Museum of Television & Radio) in March 2006, Pat Mitchell has guided the thirty-four-year old institution through an exciting rebranding effort and strengthened its public and industry programs by analyzing and interpreting the immense changes in the media landscape. Under her leadership, the Paley Center has become a major convener for media leaders and enthusiasts, continuing to offer its unrivaled collection of radio, television, and advertising content as a lens for exploring the powerful impact of media on our lives, culture, and society. Pat Mitchell was named to Newsweek's 2011 list of 150 Women Who Shake the World.
Related links at Feminist.com:
Conversation with Pat Mitchell