In partnership with Peace is Loud and featuring a conversation with filmmaker Abigail Disney and women peacemakers -- including Nobel Laureate Jody Williams, WILPF Secretary General Madeleine Rees, AWID Executive Director, Lydia Alpízar Durán, World YWCA General Secretary Nyaradzayi Gumbonzvanda and the Honorable Shinkai Karokhail, this salon asked us to think differently about the way we approach conflict, and women's roles as agents of change. Hosted at the home of Abigail Disney, we were moved, inspired and challenged to continue to work for positive change in our increasingly complex world.
Like our previous two salons on the State of Feminism and Women & Money: Re-imagining Economics, the room was filled with incredible people, including members of the Feminist.com board and advisory board, along with many longtime friends, supporters and colleagues.
Find out who joined us for the Women & Peace Salon and learn more about the incredible work they do.
Special thanks to Women on Fire for sponsoring the Women & Peace Salon!
Learn more about Feminist.com and our programs!
Stay tuned for more upcoming events to be announced on our FemSalon schedule!
For more information, email us or for the latest Feminist.com news, join here:


We do what we do because of you – and we couldn't do it without you!
Make your tax-deductible contribution today.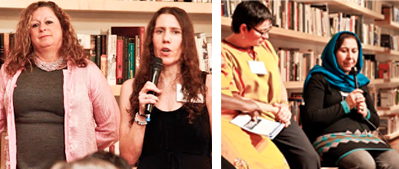 See photos from the night.

More photos can be found in the album on Feminist.com's Facebook page.




Lydia Alpizar Duŕan, Executive Director, AWID (Association of Women's Rights in Development)

Nyaradzayi Gumbonzvanda, Executive Director, World YWCA

Madeleine Rees, Secretary General, WILPF (Women's International League for Peace and Freedom)

Jody Williams, Nobel Peace Laureate, Co-Founder, Nobel Women's Initiative

Click here for our resource list.

Click here to see our program.

Once again, thank you to our generous sponsors and amazing partners!
Eileen Fisher Community Foundation
Fairwinds Trading
Maiden Nation
Peace is Loud
Women on Fire
Kathleen Sweeney Videography
Amanda Chu Photography
Abbe Aronson of Abbe Does It!
Ophira Edut at Mediarology.com

PEACE IS LOUD uses the power of media to amplify women's voices for peacebuilding. Our organization envisions a future in which women are central to building peaceful, secure and prosperous societies. To learn more, visit peaceisloud.org. We are proud to partner with Feminist.com on the Women & Peace: Transforming Conflict Salon.
And as always - thanks to all who joined us at the event! It was an inspiring evening and we were so happy to share it with our friends, colleagues and supporters.
This event was a fundraiser for Feminist.com's "Women + Peace" initiative, an outgrowth of our Women & Peace section. To find out more about our plans for a comprehensive Women & Peace microsite and how you can support our work, click here. And keep checking back to our Women & Peace section for new articles and features.