Inner Actions

Reacting with Grace: Get to Know the Back Up
By Blair Glaser
If you think about the great leaders in your life, what qualities do they have? Since we are all leaders in some way (I'm talking to you, mothers, healers and even administrative assistants!) it's a good question to ask. I'll bet on your list is an ability to find humor in many situations, without treating serious ones in a flippant manner. I'll bet it includes conviction, caring, compassion, and firmness. And most likely, there is the asset of calm and emotional evenness.
Emotional reactivity has its occasional place in leadership, but mostly, leading with your emotions is a bad idea. It makes you seem erratic, unstable, untrustworthy, and is likely to create more anxiety in your team, your clients, your kids or whomever it is you are leading and teaching.
And yet, it seems, at every turn, our staff or clients or children give us plenty of reasons to react! How do we remain effective leaders when we feel so frequently provoked? I am sure this is not a new question for many of you. Today I am going to talk about a little process I use called, "Backing Up."
When you find yourself in a snit, in an argument or a power struggle, where do you notice your energy is in your body? For me, it is all in the front. Often, I feel as though my energy is being drawn out of the front of my body through my abdomen or center, and into a dance with whatever or whomever I am grappling with. This is a signal that I am being pulled outside of myself and into a drama.
Rather than engage in the tug of war and "tug back" with my words, emotions and bright ideas, the first thing I do when I feel my energy being tugged on and my alarm bells are ringing, is Back Up. You know when a truck is backing up and it makes that beep, beep, beep sound? If I remember to make that sound in my head, I can keep a playful attitude about the whole thing, and understand that a challenge and growth opportunity is upon us. And it doesn't have to be as dramatic as it feels.
The next thing I do (assuming I have caught it in the first place, of course!) is take a breath, plant my feet firmly on the ground and pull my energy Back and Up in my body, to the back of my body. It's sort of like a camera panning out in a movie. It offers me a broader view of the person and situation. I am not withdrawing from the person, situation or content in the e-mail -- simply from the invitation to spar.
Backing up is also a way to slow down and give myself time to see a situation more clearly. It helps me feel as though I am holding myself in check. Then I can remind myself of my true job and make a choice on how I want to handle things based on that. I may want or need to negotiate, sleep on it, correct the provocateur, or readjust my position. Assessing the situation with my mind rather than leading with my feelings is a powerful way to engage my creativity in leading.
This, mind you, takes time, effort and practice! We may be in a habitual pattern of simply reacting to what people do and say. We may have even been taught that expressing our emotions as we feel them in full is a healthy or effective way to communicate. But leaders take heed, while your feelings provide you with essential information, they don't necessarily need to be broadcast to the world all the time. Back up, and with time and practice you will learn how to stay with yourself, return to the task at hand, and step gracefully with right action into the next moment.
Please, as always, feel free to contact me through my site at www.blairglaser.com/contact/ and let me know your thoughts!
---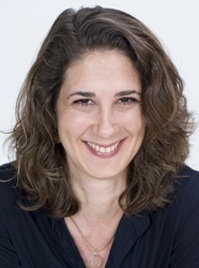 BLAIR GLASER, MA, LCAT, RDT has taught women around the country innovative skills and new ways of thinking to improve their experience in their bodies, at work and in relationship. She has run workshops at retreat centers around the country, including Omega in Rhinebeck, NY and at her studio in Woodstock, NY. She is a New York licensed creative arts therapist, teaches drama therapy at a graduate level at Pratt Institute, and has guest-lectured about drama therapy at New Rochelle College, The New School, and New York University. She has run drama therapy groups with several different populations, including a group for teenage girls that she was recruited to facilitate by actor-activist Jane Fonda . She is in private practice and also speaks at conferences and gatherings.
Blair also worked from 1998 to 2004 as part of the core staff of Eve Ensler's V-Day, a movement to stop violence against women and girls, corresponding with women all over the world about issues of empowerment. Blair's articles have appeared online in UK's feminist e-zine, FLOW, at Sexual Health.com, and in the Hudson Valley Arts/ Spirit / Culture publication; Chronogram. You can visit Blair's web site at www.blairglaser.com.