The Spiritual Adventure

Fearlessness
By Elizabeth Lesser
< back to The Spiritual Adventure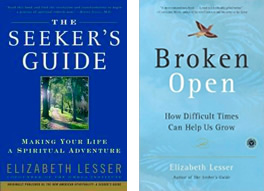 The following piece is adapted from Elizabeth Lesser's book The Seeker's Guide: Making Your Life a Spiritual Adventure.
If spirituality is not religion or cynicism or sentimentality or narcissism, then what is it? One thing that we can confidently say is that spirituality is fearlessness. It is a way of looking boldly at the life we have been given, here, now, on earth, as this human being. Who am I? How should I live my life? What happens when I die? Spirituality is nothing more than a brave search for the truth about existence. Nothing more; but nothing less as well.
We are born with a body that experiences pain and comfort, a heart that suffers and feels joy, a mind that strives and is peaceful, a spirit that yearns for both solitude and communion with others, and a contract on Earth that has a beginning and an end. Each one of us knows this and yet, each one of us spends much of our time swimming against the current of life's reality. The spiritual path teaches us how to float on our backs, relaxed and aware, in the waters of reality. The Buddhists define spirituality as shamatha, or "tranquil abiding."
We are drawn to a spiritual path out of a desire for tranquil abiding. Just saying the words feels wonderful, like an antidote to the fear, unhappiness, and anxiety with which we often approach life. Fear of what? Fear of our basic human condition. If we stop long enough to take a quiet look at our situation, we'll hear the tick-tick-ticking of time's impersonal progress. For each of us, time's march breeds a different fear: for some it is the terror of death; for others it is the worry of a life unlived; for some it signifies the loss of what we hold dear and familiar. These are not thoughts with which we usually enjoy lingering. Spirituality invites us to linger. It gives us a way of standing naked in the truth of the human condition; meeting it head-on with curiosity and openness. This is serious work, but the mysterious outcome of the work is a lightness of heart—what we call happiness.
Fearlessness sows the seeds of happiness. First comes a loosening of fear; from this relaxation comes a growing acceptance of life on its own terms; then a sense of wonder awakens, one that is large enough to contain the many ups and downs that are natural to our physical, mental, and emotional make-ups. All around us are the ingredients for happiness -- happiness, but not perfection. Perfection is an idea; imperfection is reality. Happiness within the field of imperfection is a promise of the spiritual quest.
"The purpose of the spiritual life," writes the Sufi master Hazrat Inayat Khan, "is to be happy.... The reason why man seeks for happiness is not because happiness is his sustenance, but because happiness is his own being; therefore, in seeking for happiness, man is seeking for himself." Spirituality is the search for the kind of happiness that Inayat Khan is speaking of, a happiness born from fearlessness.
Excerpted from Elizabeth Lesser's book The Seeker's Guide: Making Your Life a Spiritual Adventure.
< back to The Spiritual Adventure
---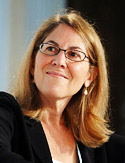 ELIZABETH LESSER is the co-founder of Omega Institute, the United States' largest adult education center focusing on health, wellness, spirituality, and creativity. She is the New York Times best-selling author of Broken Open: How Difficult Times Can Help Us Grow and The Seeker's Guide: Making Your Life a Spiritual Adventure (both from Random House). For more than 30 years Elizabeth has worked with leading figures in the fields of healing, spiritual development, and cultural change. Her work at Omega has included leading the organization, developing its curricula, teaching, and writing the yearly Omega catalog, a reference book that describes the work of some of the most eminent thinkers and practitioners of our times.
For many years, Elizabeth spearheaded Omega's popular Women and Power conferences, renowned gatherings featuring women leaders, authors, activists, and artists from around the world. In 2008 she worked closely with Oprah Winfrey and Eckhart Tolle in the creation of a ten-week online seminar based on Tolle's book, A New Earth. The "webinar" was viewed by millions of people worldwide. Since then, she has appeared several times on The Oprah Show and Oprah.com webcasts, and is an ongoing host on Oprah Radio, a weekly show on Sirius/XM.
A student of the Sufi master, Pir Vilayat Inayat Khan since 1971, Elizabeth has also studied with spiritual teachers and religious scholars from other traditions, as well as psychological practitioners and healers. Her first book, The Seeker's Guide, chronicles the uprising of a new spirituality that she participated in and researched through her work at Omega. Her second book, Broken Open, is a guide for anyone going through a difficult time. Its real life stories inspire the reader to use adversity for inner growth. Broken Open has been translated into 16 languages.
Ms. Lesser attended Barnard College and San Francisco State University. Previous to her work at Omega, she was a midwife and birth educator. She has been active in environmental issues for many years in New York State's Hudson Valley and Catskill Mountains, where she lives with her husband. She is the mother of three grown sons.
About Omega Institute for Holistic Studies
Founded in 1977, Omega Institute for Holistic Studies is the nation's most trusted source for wellness and personal growth. As a nonprofit organization, Omega offers diverse and innovative educational experiences that inspire an integrated approach to personal and social change. Located on 195 acres in the beautiful Hudson Valley, Omega welcomes more than 23,000 people to its workshops, conferences, and retreats in Rhinebeck, New York and at exceptional locations around the world.
Related links:
Conversation with Elizabeth Lesser by Marianne Schnall
< back to The Spiritual Adventure