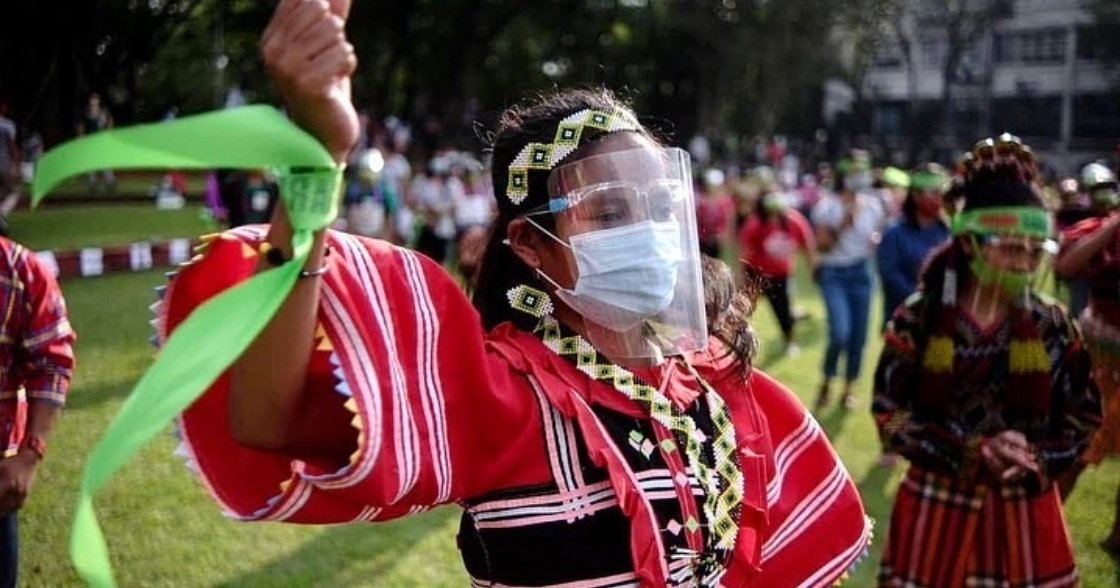 This piece was co-written with my longtime colleague Susan Celia Swan, an activist, organizer and producer who was instrumental in the creation of RAINN, Feminist.com and V-Day. She serves as the Executive Director of V-Day, the global activist movement to end violence against women , girls and the planet.
In the face of the pandemic, the world has witnessed the power of women on the front lines, stepping forward to aid their communities, amplifying their voices and meeting this moment. The Covid-19 pandemic has made visible the systemic injustice and inequality that women and marginalized communities have faced for far too long, and exposed the impact of environmental devastation on the long-term health of our planet and its inhabitants.
With the ongoing social isolation, an increase in domestic violence has been widely reported, and calls to shelter and support hotlines have surged worldwide—creating a shadow pandemic of violence against women. In Argentina, between March 20 and 31, calls increased by 39%. In Mexico, emergency calls increased by 50% in the first four months of 2020. And the UN World Food Programme (WFP) reported in April that the coronavirus pandemic could double the number of people suffering from acute food insecurity in 2021 to around 265 million globally.
As activists make visible the shadow pandemic of violence against women, they are also looking at the impact of environmental destruction on women and communities, and the link to future pandemics. Women, who make up the majority of the world's poor, are largely more dependent on natural resources, placing them at the front lines of climate change, with less economic resources to combat its impact.
One Billion Rising, a movement of activist-leaders in over 200 countries, is shining a light on the intersection of these two violences. Created by playwright and V-Day founder V (Eve Ensler) and directed by Monique Wilson, One Billion Rising is the biggest mass action to end gender-based violence, which began in 2013 in response to the staggering statistic that 1 in 3 women on the planet will be beaten or raped in her lifetime.
Last October, they issued a call to action, One Billion Rising Gardens, making the connection between the exploitation of women and the exploitation of the Earth and inviting activists across the globe—from Valentine's Day to Earth Day 2021—to create community-led initiatives that cultivate revival, restoration and transformation in their city, college campus, or high school. These activities range from the creation of community green spaces and planting community gardens; the development of seed banks and seed exchanges; the creation of zero-waste food art; hands-on environmental education for activists of all ages; collaborations with agricultural workers; actions to advance women's and workers' rights; and developing community conversations around the connections shared by women and the Earth, and ways to upend the existing paradigms that devastate them both.
"Gardening centralizes growing and giving; it is not about taking or acquiring," explains V (Eve Ensler). "Maintaining a garden is an act of resistance because it does the opposite of what the capitalist machinery does—it connects people and communities with the Earth. To grow one's own food, to grow beauty and life, is revolutionary in this age of ecological, environmental, societal and spiritual collapse. To put our energies, our creativity and our hearts into everything that can grow and sustain all forms of life when the current world order is bent on destruction is a radical political act. To care for a garden—to nurture it to bloom and grow—deepens our relationship to Mother Earth. Gardens are sacred spaces that engage and awaken our senses and make us believe in wonder, beauty and connection to all living beings. Like theater, they are a place of play and of transformation—where we can celebrate and contribute to life."
We reached out to a diverse group of One Billion Rising coordinators across the globe to get their insights on the connection between how we treat women and the Earth, what leadership and community mean to them and why grassroots and global solidarity are so crucial in this moment. This is what they said:
What is the connection between how we treat women and how we treat the Earth? Why is it important to link exploitation in terms of women's bodies, land and labor to see how these are all connected?
MONIQUE WILSON, ONE BILLION RISING GLOBAL DIRECTOR
"Gardens remind us of our enduring connection to life, to each other and to Earth, which compels us to do everything in our power to protect and nurture life and all that is sacred without doing harm. The cultivation of plant life is also a means for survival. Growing food in a garden organically—be it your own indoor garden or a community garden—allows you to feed yourself and your community. It provides autonomy and underscores the need for food security in a world where so many are denied these essential resources."
Monique Wilson, One Billion Rising Global Director (Manila, Philippines)
LUCINDA EVANS, SOUTH AFRICA
"The Rising Gardens theme resonates with who we are as African women, as African people, because we lived from the Earth from the beginning. The Earth took care of us and we took care of the Earth. And now more than ever we have been taken back to our roots and to our fundamentals. With Rising Gardens, we are working with women that have been hurt so much. And when these women work in the garden, there is healing taking place. The depths of the pain and the hurt and the violation, it all goes into the earth. And the earth takes it and holds it, and when you plant, it gives us something back—life, food, healing, nurturing. It also raises our resistance because we learn that when we have gone through our pain, we become resistant. The Rising Garden theme penetrates our soul, my soul, and all of us. It is also about sustainability. It is about the hope that we would be able to love once again, from the Earth to sustain our bodies, but also to heal us. It gives women in the center where I work and the places where I work another opportunity not just to heal but to be able to earn a little bit of income from the projects that they have."
Lucinda Evans, One Billion Rising Coordinator for South Africa
ANDRES NAIME, MEXICO
"Since ancient times, women have had a special relationship with nature. They contribute enormously to the well-being and sustainable development of their communities, as well as to the maintenance of the planet's ecosystems, biological diversity and natural resources. Women across the planet use and interact with natural resources and ecosystems on a daily basis. They are the first to feel the effects of climate change when they have to travel longer and longer distances to find what they need to feed their family.

The recognition of what women contribute or can contribute to the survival of the planet and to development remains limited by gender inequality and the social exclusion which continue to increase the negative effects of unsustainable and destructive environmental management on women and girls. Persistent discriminatory social and cultural norms reinforce unequal access to land, water and other resources, as well as lack of participation in environmental planning and management. Despite these obstacles, OBR and activists around the globe are making great progress, and governments are increasingly drawing on their expertise and leadership when making important environmental decisions. Even so, much remains to be done to support the role of women in decision making and ensure a better future for all."
Andres Naime, One Billion Rising Coordinator for Mexico
SYLVIA PALERMO, ITALY
"Respect the Earth and women, and take care of them because they are the origin of life. Women and the Earth are linked by an ancestral thread, which originates in the mists of time. Educating people to love the Earth means educating them to love their neighbor. For this reason, it is very important to link our fight against all abuses: violence and exploitation of women, many other disadvantaged groups, workers without protection and also the environment. It is a way to fight against a system that is wrong, unjust and also ineffective (just think of the devastating effects of climate change or the effects that will have on the global economy if wealth is not fairly redistributed). It is no longer possible to look only at the present and exploit the planet and its people. It is necessary to live with conscience and to respect the Earth and its people. It is necessary to cultivate non-violence for a better future."
Sylvia Palermo, One Billion Rising Coordinator for Italy
CHRISTINE SCHULER DESCHRYVER, CONGO
"There is a connection in the way we treat women and the way we treat the Earth. The Earth and the woman are sources of life, but both receive acts of destruction after giving life. The Earth is polluted by human beings, and nature deforested. In the same way, women are neglected by men who are the fruits of the patriarchal system. Hegemonic masculinity promotes the subordination of women. It annihilates all actions that promote gender equity. The woman, instead of being honored for her pro-creative work, is devalued and forgotten. It is important to establish the link between the exploitation of women's bodies, land and labor because, as the source of life, we cannot claim to build a bright future if women's rights and the protection of Mother Earth are not promoted. Security for nature and security for women are key factors for development."
Christine Schuler Deschryver, V-Day Congo Director & Director of City of Joy
ROSSANA ABUEVA, UNITED KINGDOM
"The global return to planting, being creative and working with our hands is evidence enough that we have been distracted by what this world defines as 'development' and our natural evolutionary path has been derailed. Indigenous wisdom emphasizes love and care for the Earth that has and will always provide a symbiotic existence that, to date, man'kind' has miserably and arrogantly defied."
Rossana Abueva, One Billion Rising Director for United Kingdom
As a leader in your community, what defines your leadership, and how does that impact your One Billion Rising efforts?
JOAN SALVADOR, PHILIPPINES
"I see myself not as an individual leader but part of a movement of women creating and building collective leadership. My role would be to guide and share my knowledge with other women, encourage them to take on roles in their organizations or communities and develop themselves individually as they contribute to the movement and their communities. My individual development as part of the collective depends on the learnings I gain from women's experiences, from activities and campaigns we launch, from trainings and discussions I attend with women and from understanding the context from which the women are coming from. This appreciation, I think, provides women the opportunity and knowledge that OBR is not just a 'project' or a campaign of an individual or a particular group but a campaign that can be participated in and developed by everyone who agrees and believes in the call."
Joan Salvador, One Billion Rising Coordinator for Philippines
MASSARAN BIBI, MALI
"I am focused and target oriented. I am very passionate about gender equity and women empowerment. My OBR efforts are making big impacts in the communities where we held public risings. Daring to create discussion on gender-based violence with religious and community leaders was very powerful. My leadership style is marked by my resilient nature. I always face difficulties and that makes me strong."
Massaran Bibi, One Billion Rising Coordinator for Mali
What does being in community mean to you?
COLANI HLATJWAKO, ESWATINI
"Community means I must always show love, support and be welcoming to people I live with. It means to reach out to those in need. It means to push one agenda, which in our case is calling an end to violence against women (cisgender, transgender, and those who hold fluid identities that are subject to gender-based violence). It means to accept each other regardless of gender, age, race, color, religion or sexual orientation."
Colani Hlatjwako, One Billion Rising Regional Coordinator for Africa
AMINATOU SAHER, CAMEROON
"Being in community is living together and overcoming challenges together. That is what it means for me."
Aminatou Saher, One Billion Rising Coordinator for Cameroon
MARSHA PAMELA LOPEZ, GUATEMALA
"Being part of a community has helped me stay alive. The sense of belonging and productivity has given me the chance to move on. I can clearly say that this community has saved my life, over and over again, since the day I had the opportunity to meet and be part of it. V, Monique, Susan (One Billion Rising Founder, Global Director and Executive Director) and all my fellow One Billion Rising coordinators give me a sense of life."
Marsha Pamela Lopez, One Billion Rising Coordinator for Guatemala
What is solidarity to you? Why is global solidarity important, and how does One Billion Rising serve as a catalyst for global solidarity?
KAMLA BHASIN, SOUTH ASIA
"Solidarity is the power of one person multiplied several times over. In our vision of solidarity, an individual is like a drop in the ocean, and when we come together as a movement, we are as powerful as an ocean—a force of nature. By bringing together, year after year, hundreds of people giving back to their communities across the world, One Billion Rising makes us hope that change is not only possible, it is imminent. For us, networks should be like spirals, growing, becoming larger. Feminism and feminist solidarity have always been local and global. For us, both are important."
Kamla Bhasin, One Billion Rising Coordinator of South Asia
CHIKAKO HAMA, JAPAN
"Various wisdoms are gathered for things that cannot be done alone. Unexpected ideas and imagination come out and make the impossible possible. We empower each other. Solidarity is the foundation for change. Like the personal is political, what's happening here is happening in the world. Solidarity is needed to break through the current situation. As in the Japanese Sengoku warlords saying, 'One arrow can easily break, but three arrows cannot be broken.' If you have an unbreakable heart, solidarity makes revolution. OBR shakes the hearts of the people who are not aware of the problem and serves as a model for them to act."
Chikako Hama, One Billion Rising Coordinator for Japan
OMODELE IBITOYE, NIGERIA
"Solidarity is unity or agreement to rise for common interest, with understanding and mutual support. Global solidarity is important for connecting with powerful people working hard for liberation and love for all lives and our Mother Earth. Global solidarity is empowering, supportive, and understanding situations outside our personal context. Global solidarity promotes intersectional feminism; it promotes knowledge and creates a platform for exposing clandestine exploitations at community and regional levels. Global solidarity creates spaces for the visibility of grassroots organizers and rural women; it amplifies the voices of survivors, organizers and supporters of gender justice to a larger audience."
Omodele Ibitoye, One Billion Rising Coordinator for Nigeria
CENTER ZA DAVOJKE, SERBIA
"When women support other women, amazing things happen. Solidarity on a global level carries a power that we as individuals do not have in eradicating gender inequality whose energy is just being felt through the One Billion Rising campaign. Through it, the voice of many women from all over the world is heard, and it reminds us how important it is to listen to every woman and give her the power to make decisions and speak."
Center za Davojke, Serbia
AIKO KAZUKO KUROSAKI, AUSTRIA
"Solidarity for me means to care for each other and to stand together. Now global solidarity is a must as there is no Planet B, and so many issues are burning. Through One Billion Rising, I can feel the connection and the global solidarity most."
Aiko Kazuko Kurosaki, One Billion Rising Coordinator for Austria
JANKA STRIFFLER, PORTUGAL
"Solidarity means that we cannot make it alone. It brings us to the realization that we are part of one unity. We do need each other, and what we do to the other, we do to ourselves.

OBR is a global movement which shows and mirrors very clearly how we are connected with each other, locally and globally, and how we can support each other by raising our voice for all those who are not able to do it. If we stand together for one theme, one dream, one Earth, one humanity, we are in solidarity and go for what we love. Solidarity is such a power and source of love."
Janka Striffler, One Billion Rising Coordinator for Portugal
ALICE KACHERE, MALAWI
"Solidarity means unity. Global solidarity is very important because women are facing the same challenges globally. We need solidarity in order to end violence against women and girls. Working as a team and speaking out with one voice can bring change to our lives. One Billion Rising is a catalyst of global solidarity because it promotes the campaign globally by giving us funding and helping to make us visible in our communities, districts and countries. One Billion Rising are the chief supporters of rural women. We are now accountable. Stop the violence now. Our land, our bodies, our future."
Alice Kachere, One Billion Rising Coordinator for Malawi
Ready to RISE? Join survivors, artists, activists, workers, indigenous communities, and youth in towns, cities, schools, fields and gardens worldwide. Visit OneBillionRising.org.
One Billion Rising, launched in 2013, was inspired by the UN statistic that 1 in 3 women across the planet will be beaten or raped during her lifetime. That's ONE BILLION WOMEN. One Billion Rising is characterized by large-scale, in person, artistic and political events, fueled by artists, survivors and activists in over 200 countries.
For more responses from global activists and One Billion Rising's new short film released for Earth Day, click here.
The quotes in this article have been edited for length and clarity.
Susan Celia Swan is an activist, organizer and producer whose work has centered on the role of art in culture and system change. Instrumental in the creation of RAINN, Feminist.com, and V-Day, she serves as the Executive Director of V-Day, the global activist movement to end violence against all women (cisgender, transgender, and those who hold fluid identities that are subject to gender-based violence), girls and the planet and sits on the boards of V-Day and Feminist.com.