High Above It All
Excerpt from It's A Living! Career News for Girls
by Ceel Publishing

< back to Girls' Issues main page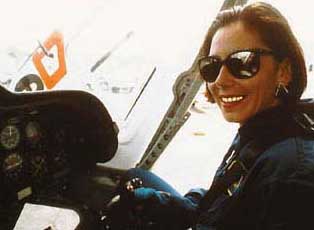 Maria Mancano, her head in the clouds, dreamed of flying while other girls dreamed of a home and family. Today Maria is a helicopter pilot with 10 years' flying experience.
She has moved communications towers and gigantic logs with her helicopter. She has taught others how to fly. She has transported patients from car accidents to emergency rooms and from trauma centers to hospitals. Maria has always been interested in the mostly male, "nontraditional" professions. Before she fell in love with flying, she considered police work and fire fighting careers.
After high school, Maria moved from her home in West Virginia to live with her sister in Oregon. She wanted to escape being a "steel mill rat." She worked at a department store and, after a 7 month visit to Israel, decided to enroll at Portland State University and study Hebrew and the Middle East. To support herself, she went to work for a big grocery store. That's when she had her first flying lesson. She was hooked. "I knew this would be my life; I didn't want to be just average; I wanted to be good."
Maria knew paying for lessons was going to be hard. "Most pilots receive their training in the military. This means they don't have to worry about paying for individual lessons. Not me. I got my training when I could afford it. That's a hard way to learn. You don't remember as much from one lesson to the next."
It took Maria 2 years to get her license. Flying lessons cost her $150 an hour. (You need at least 150 hours of flying time to be a commercial pilot.) Maria spent more than $30,000 learning to fly. To pay for her lessons, she sold her skis and her camera. She sold a car her parents had given her. She accepted money from a friend. She ended up running a forklift on the loading dock at the grocery and also unloaded freight for UPS.
When she finally had her pilot's license, Maria opened a helicopter school for students. This is one way pilots get the hours they need to qualify for good flying jobs. "Working with students was fun. They are so excited about flying," she says.
But her favorite flying times were with Columbia Helicopters. Maria spent 6 years living in logging camps with her dog Yasha and flying huge twin-rotor helicopters 6 hours a day in Washington. She'd shuttle crews in and out of small landing zones cut out of endless forests. But most of her air time was spent steadily hauling 10,000 to 30,000 pound loads of cut and limbed trees from the deep woods to where they could be loaded on trucks. "You take these big logs, 250 feet from the center of the helicopter, and you finesse them into locations where other people could never put them. It's like threading a needle in the sky. You need consistency. You have no depth perception at this altitude. 'To fly the long line' and fly it well with the wind and the turbulence is very challenging."
In comparison, Maria's current job as a MedEvac pilot transporting patients to care centers is a little boring. "It's like running a taxi service. The challenge comes when you have to create a make-shift landing zone--when you have to pick somebody up at an accident and there is a rough surface or obstruction or wires to maneuver around."
Maria works 6, 12-hour days. But she is never flying that long. She waits in a bunk house with other pilots for a call. When that call to fly comes, she could be watching a video, reading a magazine or a book, filling out paperwork, or sleeping. Unless the weather is really bad, she has only 5 minutes from the time she gets the call until the time she takes off in her helicopter. She has to decide whether the flight is possible. Is there a storm brewing that would make it dangerous? What about the wind? "They don't tell me who the patient is. They don't want to influence my decision of whether or not it's safe."
After her 6 days of work, Maria has 6 days off. She lives with her father in the town where she grew up, but once a month she travels for fun--to St. Louis, Missouri; Ocean City, Maryland; Rockport, Massachusetts; Portsmouth, New Hampshire. She has friends all over the world. She looks up the students she taught to fly. This summer she spent a week in the villa of a friend near Avignon, France and went to Monte Carlo to a convention of helicopter pilots.
"From the time I was 5 years old, my mother called me 'Gypsy.' It's a sure case of a mother creating a wanderlust in her daughter." It was when Maria's mother got sick that Maria moved from the logging camp in the Northwest back home to West Virginia. She helped her father care for her mother, who died 6 months later of Alzheimer's disease. Her parents were married for 54 years. That's how Maria came to join Corporate Jet and became a MedEvac pilot in Pennsylvania and West Virginia.
Maria says: "From the very beginning I loved the spontaneity of flying, being able to create as you go along. And I love the expanded line of vision, the openness and space, and going to places that not everybody can get to."
"We need more scholarships for women pilots. It's still hard for a woman to make it in this field. You have to compete with all the military pilots who have the advantage of that excellent training."
CAREER CHECKLIST
This Career Is For You If You...
Are a risk taker
Love to fly
Can be decisive and take responsibility for others' safety.
Will get the strong math and science background you'll need to calculate when it is safe to fly and when it is not. To do this, you need to know how to read weather forecasts and calculate weight, fuel, distance, air speed, and wind effects on the aircraft
Would join a military service to learn how to fly.
Did you know?
There are 39,167 women certified pilots; 614,921 men certified pilots, and 1,000 women helicopter pilots.
Salaries: Earnings for beginning helicopter pilots: $21,000 to $25,000 plus travel expenses.
Excerpted from It's a Living! Career News for Girls