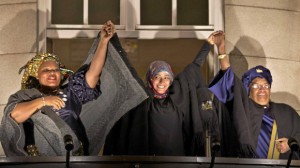 The 2011 Nobel Peace Prize Winners:
Leymah Gbowee, Tawakul Karman, and Ellen Johnson Sirleaf
New!
Check out our "Women & Peace: Transforming Conflict" page featuring photos, video clips and other highlights from our recent salon with filmmaker Abigail Disney and other women peacemakers, including Nobel Laureate Jody Williams, WILPF Secretary General Madeleine Rees, AWID Executive Director, Lydia Alpízar Durán, World YWCA General Secretary Nyaradzayi Gumbonzvanda and Afghan Parliament member the Honorable Shinkai Karokhail. In partnership with Peace is Loud and part of Feminist.com's FemSalon Series.
Video Highlights from the Salon

More Speaker Videos
Lydia Alpizar Duran, Executive Director, AWID (Association of Women's Rights in Development)

Nyaradzayi Gumbonzvanda, Executive Director, World YWCA

Madeleine Rees, Secretary General, WILPF (Women's International League for Peace and Freedom)

Jody Williams, Nobel Peace Laureate, Co-Founder, Nobel Women's Initiative
Women & Peace
Go directly to our Latest Features

Feminst.com is deeply committed to supporting a vision of lasting peace throughout the world, which can only be achieved through the full participation of peace-seeking women alongside peace-seeking men in all aspects of society.
Feminist.com is currently raising funds to launch a new microsite dedicated to advancing women's peacemaking work around the world and to better understanding women's roles in transforming conflict. We invite partners, collaborators and sponsors to be involved in this exciting new online platform!
Leveraging Feminist.com's almost 20-year history as the Internet's definitive hub for resources and information dedicated to women's equality, justice, wellness and safety, the new Women & Peace microsite will enable connection and collaboration across physical, ideological and institutional divides. In partnership with a diversity of organizations and initiatives around the world, it will showcase women's groundbreaking peacebuilding work across the globe, elevate women's voices through their stories and expert analysis on peace and conflict, and offer critical tools for action and advocacy. Please contact us at [email protected] if you'd like to learn more about this new Feminist.com microsite and how to be a partner or sponsor.
In the meantime, check out the latest articles and resources by our partners, below!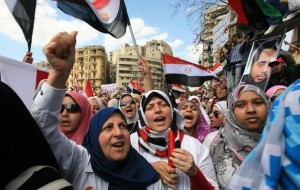 Women protesting in Egypt
This Women & Peace section was first inspired by Omega Institute and V-Day's Women, Power & Peace conference. Check out the links to articles and interviews from this event further below on this page.
Excerpt from My Name Is Jody Williams: A Vermont Girl's Winding Path to the Nobel Peace Prize
AWID Presents A Selection Of Significant Moments For Women's Rights In 2012 (VIDEO)
Excerpt from Sex and World Peace by Valerie M. Hudson, Bonnie Ballif-Spanvill, Mary Caprioli, and Chad F. Emmett
Column: Women's Global Voices By Jensine Larsen, World Pulse
Column: United for Peace By Nobel Women's Initiative
Waging Feminism – the Other Side of Nonviolent Struggle By Stephanie Van Hook
Petition to Support the Afghan's Network By Meredith Tax
Women, War & Peace: War Redefined By Peter Bull
Bring in the Women Peacemakers: Are We at a Tipping Point? By Sheherazade Jafari
Women Nobel Peace Laureates Congratulate Three New Women Laureates by the Nobel Women's Initiative
Interviewing a new kind of leader and, now, a Nobel Prize winner, Ellen Johnson Sirleaf by Pat Mitchell



---

Omega Institute, V-Day and the Nobel Women's Initiative present...
Women, Power & Peace
Read Feminist.com's archive of features from the Women, Power & Peace Conference


More from and about Women, Power & Peace
Hillary, Condi, Aung San Suu Kyi and You
by Marianne Schnall - The Women's Media Center
Nobel Laureates, Sally Field, and Other Muzzled Peace Voices
by Marianne Schnall - The Huffington Post

Quotes from Women, Power & Peace Speakers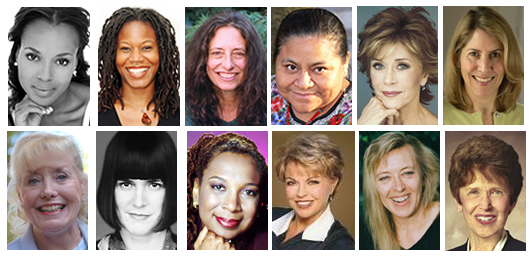 Featuring selected quotes from Majora Carter, Kimberly Williams Crenshaw, Riane Eisler, Eve Ensler, Jane Fonda, Carol Gilligan, Elizabeth Lesser, Rigoberta Menchú Tum, Pat Mitchell, Kerry Washington, Betty Williams, and Jody Williams.


Exclusive Interviews from Women, Power & Peace
by Feminist.com Founder Marianne Schnall:
• Conversation with Betty Williams
• Conversation with Carol Gilligan
• Conversation with Kerry Washington



Related Links at Feminist.com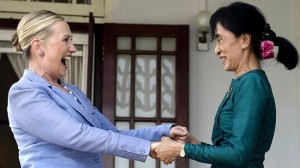 Hillary Clinton and Aung San Suu Kyi
Images from AWARE: Association of Women for Action and Research