Hyper Sexualized Marketing to Kids
Excerpt from Daughters
by Lyn Mikel Brown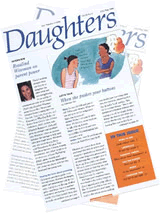 Many of us are worried about all the sexed-up marketing and media messages our daughters (and sons) get. What can we do? First, take some time to think about what bothers you about these media messages and why. Are you worried she'll grow up too fast; that these "Bratz-like" toys will be the first step to trying out the real stuff? Are you worried she'll get or give the wrong messages about being a girl? That these products will take up too much of her time and energy, at the expense of other activities and experiences you value?
If you give your reactions to these "sexed-up" products careful consideration, it's more likely that when she begs for that "little hottie" tee you'll be in a position to do more than give a knee-jerk, "Over my dead body!" She learns nothing from such a reaction, except maybe to hide her desires from you.
Instead, ask her what she likes about the tee and why she wants it, and let her answers guide a conversation. "Because all my friends have them and I'll be left out"; "Because I want to be unique or look edgy"; "Because it's the brand all the cool kids wear," are all different reasons.
If you listen carefully and take her desire seriously, the door opens to conversations about the nature of genuine friendship, about conformity and what defines true individuality, even about marketing and branding itself. Because you've thought this through, you're also better prepared to tell her what concerns you and why and to let her know what you want for her. Remember, this really this isn't about a product, it's about the kind of girl you hope she'll become. Since this stuff is in her world – and it's everywhere -- use it to open up conversations in ways that both educate her and deepen your relationship. As Sharon Lamb and I say in our book Packaging Girlhood: Rescuing Our Daughters from Marketers' Schemes (www.packaginggirlhood.com), "Turning off the world is not the answer. Giving her the means to reflect on it and your company when doing so is."

Lyn Mikel Brown, Ed.D., is Professor of Education & Human Development at Colby College. She writes extensively on the relational life of girls; the influences of race, class and gender on girls' lives; the impact of media, and girls' feelings of anger, self-knowledge, loss, hope, and desire.
© New Moon Girl Media. Reprinted with permission from www.daughters.com, the web's best source of resources for parents and stepparents of girls and adults who work with girls.
About Daughters.com
Created exclusively for parents, grandparents and caregivers of girls ages 8-15, it's where you find expert answers for all your questions about raising girls. Anchored by more than 250 articles on a variety of topics, from body image to building friendships and communicating successfully, you can connect with others who care about girls. Learn more at www.daughters.com.